Today is a 'frustration day'and you have probably all had them. Everything you'd like to do is not working. De kids wake up at 6am, of course they go downstairs in Complete Silence (not!) and make a mess as only kids seem to be able to do.
After ranting and raving for about half an hour I decided I needed to change my mind set. I take my angelcards and try to focus, and of course I get a card that inspires me.
'Vanessa'
To make your decision you need to ask yourself: 'which decisions is bringing e closer to my divine purpose? Which way takes me away from it?
This card is from the "Messages from Your Angels" Oracle Card Deck by Doreen Virtue.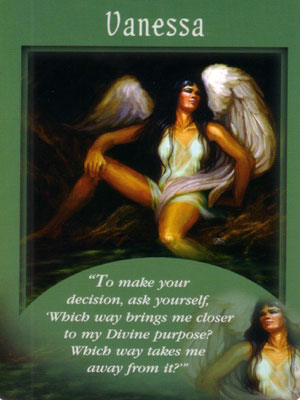 So I start to bake, that always seems to put me in a good mood and just the smell alone causes the other family members to take a more positive action. They know they will get something seriously good.
Baking really makes me happy, not just the act of baking but knowing something delicious is on its way. I am making danish pastries,( I think you call them). Croissants, Chocolate rolls, rolls with almondstuffing (franchipanne) and chocolate&cinnamon rolls. You can see the result in the pictures beneath.
The weather is quite nice so my son and I decide to go for a walk ( to be honest, I decide and I drag him along). We pass through the apple orchard next door and find a field full of flowers with radiant colours.
Back home my daughter invites me to a 'high tea' with all of her stuffed animals in the boot of the car. Life is getting better and better. 😊
Ik decide to bring out the angelcards and see what today might bring.
Opal: Your children on Earth and in Heaven are happy and well cared for by God and the angels.
Passion: Archangel Haniël: Trust and follow your renewed passion in your love life and carreer.
Study
This is very true for me. My kids are my biggest source of inspiration and learning. I enjoy the feeling of love I have for my children as well as the love I have for my children that didn't get to be born. They just came for a peep and returned to heaven.
Passion, The fact that I feel a lot more freedom in being who I am without being ashamed for the things I 'see' and my, for some people, high sesnsitivity.
Study: We are figuring out how to reach out to more people. If you have ideas, I would love to hear from you! We are discovering new functions every day – you can subscribe to this blog and if you do, you will receive a notification each time a new blog has been written.
I hope you are safe and healthy. Don't give up.
I will try to explain in the next blog how you can connect with your angels. Because once you have heard, felt or seen them you will never feel alone again.
Greetings from the heart,