People often tell me 'it's easy for you, you can see them'!
After waking up from my coma I started seeing images. I really didn't find that easy at all. I didn't understand what I was seeing and why. When I consulted my doctor het told me it was brain dammage and that it was a comon thing with people who had been in a coma or had a near death experience.
So not only did I have to deal with the images but as well with the fact that I had brain dammage!
I have learned to cope with it and luckely it so happens that you get to meet people who can guide you on your path. After years of testing, studying and searching for answers I have also learned to deal with this invisible world. I only want to see images when someones specifically asks me to, and if he/she is willing to take the necessary time to listen.
I also have a deal with the angels that if they feel it is necessary that I connect with someone, then they make it clear to me. They often do so by showing a wing that lights up behinds ones shoulder.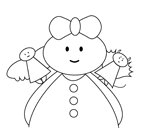 Meanwhile I have 20 years of experience in contact and images. I like to share what I have learned with you.
Why, because the contact is extremely nice, because you do not need any requirements. Because angels don't charge; they are so pleased when you contact them because they love to help. They only have unconditional love and that is, my friends, what we all long for.
You will find practical instructions on this page of my site, 'Let's start'.
Please know that this is possible for anyone! Angels can help with lots of different matters, they get real excited if your question is aligned with your life's purpose. How do you/will you know? Ask for that which your hart desires – freedom, love, respect, joy, insight, connection,…You better not ask for their help if you are planning a negative action but they can help you gather insights as to how to solve the problem.
I would like to offer following advise: talk to your angels the way you should talk to men: very clear and one question at a time 😊
A practical problem is the easiest to try out, like asking for a good parking spot although in these Coronavirus times that problem might not occur as much but you can always ask whey you will still buy toiletpaper. 😉
You will make the fastest progress by taking time each morning to walk through the coming day in the morning to think about what help you might need. Then at the end of the day determine whether you have actually received help, or if you have perhaps had a gut feeling that you might or might not have responded to.
Follow the steps I describe on this page 'Lets start'. I wish you many wonderful experiences.
Any questions? I would love to hear them.
Greetings from me and the angels.